Regina in Halifax
Essential Opera would like to thank the Gilsig Series in Jewish Arts and Culture at Dalhousie University for making our performance on October 8, 2015 possible. The full house was appreciative of both the opera and the talk from Dr. Sara Horowitz of York University.
Cast and team for this performance:
Erin Bardua, soprano
Maureen Batt, soprano
Marcia Swanston, mezzo-soprano
Jesse Clark, baritone
Jeremy Ludwig, baritone
Gregory Myra, piano
Branko Dzinovic, accordion
Special notice regarding Ottawa performances of Etiquette and Regina
Due to Opera Lyra Ottawa ceasing operations on Wednesday, October 14, 2015, our co-presentation of these two works has been cancelled. For more information, please see the notice on the main page of our site and Opera Lyra Ottawa's press release.
Essential Opera is pairing up with Opera Lyra Ottawa to bring Etiquette and Regina to Opera Lyra Ottawa on October 16, 17 and 18. For more info, visit Opera Lyra.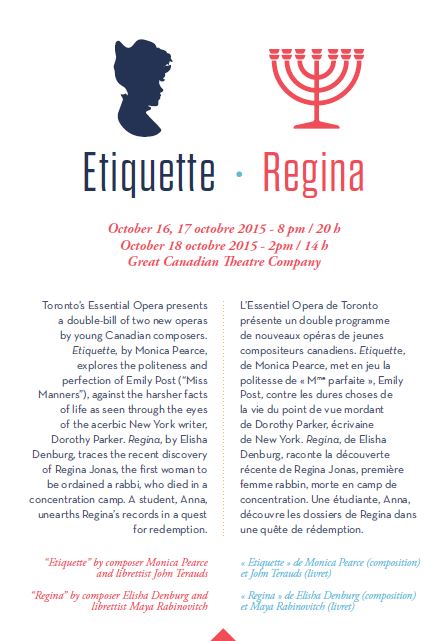 MUSICAL TEAM:
Music director: Cheryl Duvall
Clarinet: Anthony Thompson
Accordion: Branko Dzinovic
Violin: Ilana Waniuk
CAST:
Erin Bardua, soprano
Maureen Batt, soprano
Marcia Swanston, mezzo
Jeremy Ludwig, baritone
Jesse Clark, baritone
_
Première Performances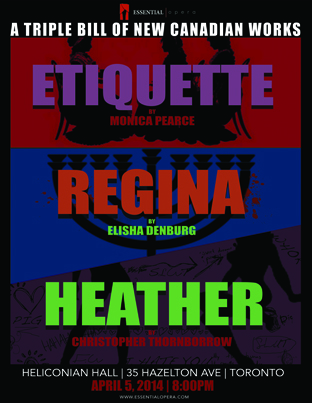 Thank you to all who shared and contributed to our Indiegogo campaign to fund this project!
For donor acknowledgements and other ways to contribute to Essential Opera, please see our Support page.
Etiquette, Regina, and Heather will all be presented again at the Open Ears Festival of Music and Sound in Kitchener, on June 15, 2014!
Etiquette
Composed by Monica Pearce; Libretto by John Terauds
Pitting politeness and perfection against the harsher facts of life, through the eyes of Dorothy Parker, Emily Post and Nancy Astor.
Regina
Composed by Elisha Denburg; Libretto by Maya Rabinovitch
The story of Regina Jonas, the first woman to be ordained a rabbi – in 1935 Berlin – and the young student who discovers her truth.
Heather
(CINDY + MINDY = BFs 4EVER)
Composed by Christopher Thornborrow; Libretto by Julie Tepperman
A hard-hitting introduction to the vicious reality of online bullying between girls and young women. WARNING: Strong language.

Saturday, April 5, 2014, 8:00 p.m.
Heliconian Hall, 35 Hazelton Ave., Toronto
MUSICAL TEAM:
Music director: Cheryl Duvall
Conductor: David Passmore
Clarinet: Anthony Thompson
Accordion: Branko Dzinovic
Violin: Ilana Waniuk
CAST:
Erin Bardua, soprano
Maureen Batt, soprano
Julia Morgan, mezzo
Keith O'Brien, baritone
Jesse Clark, baritone
Creative Team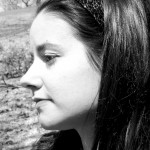 Monica Pearce
Composer – Etiquette
Monica Pearce, originally from Prince Edward Island, is a composer of new classical/contemporary music with a particular affinity for solo and chamber music, opera, and musical theatre. After completing her Bachelor of Music at Mount Allison University with a focus on piano and composition, studying with David Rogosin (piano) and Ian Crutchley and James Code (composition), Monica completed her Masters of Music in Composition at the University of Toronto with the mentorship of Alexander Rapoport and Gary Kulesha. She currently studies composition independently with Linda Catlin Smith.
Monica founded the emerging composer collective the Toy Piano Composers in 2008 with Chris Thornborrow, where she is the Artistic Director. The Toy Piano Composers are currently in their fifth season and have presented over 90 new works in 12 concerts, with support from the Toronto Arts Council and the SOCAN Foundation.
Pearce's work has been performed by the Array Ensemble, eklektikos ensemble, TorQ percussion quartet, junctQín keyboard collective, Sneak Peek Orchestra, Tonus Vivus Ensemble, Avant Guitars, Digital Prowess, and Tandem Percussion. Monica was the composer-in-residence for the 30th Anniversary of Canada Music Week in Prince Edward Island. In 2012, she was named winner of the Heliconian Choir and Orchestra's New Music Competition for Emerging Female Composers for her piece You Know Me (based on the poem by Gwendolyn MacEwen). Most recently, she received the Canadian Music Centre's Toronto Emerging Composer Award Honourable Mention for her project it plays (because it plays) for the junctQín keyboard collective.
John Terauds
Librettist – Etiquette
John Terauds is a former music critic with the Toronto Star and the founder of MusicalToronto.org. A longtime church organist and choir director, he is about to start a new musical life in Bennington, Vermont. Thanks to his newfound fondness for Emily Post, he leaves Toronto keenly aware of the difference between himself and a gentleman. He has written one previous opera libretto, happily lost when his university papers went into the recycling bin many years ago.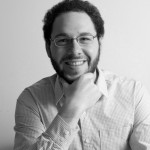 Elisha Denburg
Composer – Regina
Elisha Denburg's music has been commissioned, premiered, recorded, and toured across Canada,
and performed in the US. He has collaborated with artists such as Valerie Tryon, Arpatambora, junctQín keyboard collective, Windago Ensemble & Choir, TorQ Percussion Quartet, Tonus Vivus Society for New Music, Sneak Peek Orchestra, Esprit Orchestra, and the Array Ensemble. His music has also been aired on the CBC Radio 2 program "The Signal" with Laurie Brown. His orchestral work, Prelude, was the winner of the UTSO Composition Competition, and was read by the Toronto Symphony Orchestra. In the summer of 2012, he participated in the Composers Program at the National Arts Centre in Ottawa.
Recent projects include the completion of a one-act chamber opera, commissioned by Essential Opera (with librettist Maya Rabinovitch) titled Regina, about the first female rabbi, to be premiered in the spring of 2014. Commissions from the Halifax Camerata Singers (a result of having won their 2013 Composers' Competition) and Thin Edge New Music Collective, featuring vocal ensemble GREX, round out the upcoming season.
Elisha serves as Co-Artistic Director of the Toy Piano Composers, a collective founded in 2008 by Monica Pearce and Chris Thornborrow, that is dedicated to the presentation of playful and engaging new music in Toronto and abroad. A graduate of the DMA program at the University of Toronto, Elisha's major research project focused on the synagogue music of the late Canadian composer Srul Irving Glick, and was funded by the Joseph and Gisela Klinghofer Scholarship in Jewish Studies.
Maya Rabinovitch
Librettist – Regina
Maya Rabinovitch is a Toronto-based director, dramaturg, educator and producer. Since her time at York University studying dramaturgy and collective creation, she has focused on developing and directing new plays. Recent writer/director credits include 18 Twitching Cheerleaders(Edmonton Fringe), I Will Not Hatch! (Steady State Theatre Project/Edmonton Fringe/Toronto Fringe/Hank Marvin Theatre Company), Double Double (Toronto Fringe) and collaborator/co-director for The Green Show (Mixed Company). Recent directing credits include UnIntentionally Depressing Children's Tales (Videofag), Zero Visibility (SummerWorks/AMY Project), Don't Look (Next Stage Theatre Festival), How I Learned to Stop Worrying and Love Abortion (Toronto Fringe) and A World of Bananas (Hysteria Festival). Maya has collaborated on a number of projects including The Famous Remains of Piggy Palace (18 Hands Theatre Collective) and Rule of Thumb (Toronto Fringe). Maya is the Artistic Producer of the Steady State Theatre Project, and is Co-Session Director for the AMY Project (Artists Mentoring Youth) for 2014. Maya spent four years as Youth Representative on Factory Theatre's Board of Directors until 2011.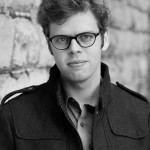 Chris Thornborrow
Composer – Heather
Chris Thornborrow's music has been described as, "complex…and clear…" with, "subtle playfulness…" (musicaltoronto.org). He has received a number of awards and scholarships for his music and research, including the University of Toronto orchestra composition competition (2011), the Toronto Emerging Composer Award Honourable Mention (2013), and the Karen Kieser Prize in Canadian Music (2013). His interests include concert music, film-score, and education. His works have been performed across Canada and in the United States, and the films he has scored have screened internationally. He co-founded the Toy Piano Composers in 2008 with Monica Pearce. The Toronto based collective has premiered over one-hundred new chamber pieces, orchestral works, songs, and operas by emerging composers from across Canada.
Performers of his work include TorQ Percussion, junctQín keyboard collective, the Bicycle Opera Project, Ensemble Paramirabo, Musica Reflecta, the Lam Trio, Ensemble Paramirabo the Array Ensemble, and the Thin Edge New Music Collective. He has participated in a number of workshops with Continuum Contemporary Music Ensemble, the Ives Ensemble, The Buffalo Philharmonic, Kitchener-Waterloo Symphony Orchestra, Soundstreams, and was a composer in residence at the Atlantic Music Festival in Maine.
Chris has scored over a dozen films, including Andrew Cividino's award-winning short, We Ate the Children Last, which has been screened all over the world. In 2006, Chris's interest in education led him to start the music program at International Summer Camp Montana in Switzerland where he worked as a music teacher and assisted in programming at the camp. He is currently completing his DMA in Composition.
Julie Tepperman
Librettist – Heather
Julie Tepperman is an actor, playwright and educator, as well as co-artistic director (with Aaron Willis) of Convergence Theatre, creators of the hit plays AutoShow, The Gladstone Variations and YICHUD (Seclusion).
Playwriting credits include: YICHUD (Seclusion) (Convergence/Passe Muraille/Magnetic North) which is published by Playwrights Canada Press, I Grow Old (as part ofThe Gladstone Variations – Dora nomination; listed as one of NOW Magazine's "Top Ten Toronto Productions of the Decade"), ROSY (as part of AutoShow), and a re-imagining of the August Strindberg play The Father (Winnipeg Jewish Theatre/MTC's 2011 Master Playwright's Festival).
Selected acting credits include: Mary 2 in the Canadian premiere of Sarah Ruhl's epic Passion Play (Convergence Theatre / Outside the March / Sheep No Wool co-pro), The Audience Guide in Mr. Marmalade (Outside The
arch; Ensemble Dora nomination), Liza in Out The Window (The Theatre Centre), Rachel in YICHUD (Seclusion), two seasons at The Stratford Festival (All's Well That Ends Well, Agamemnon, Electra, The Flies, The Swanne – Part Two) as well as their Conservatory for Classical Theatre Training, and numerous play-development workshops and appearances at local Toronto theatre festivals, including: The Edward Bond Festival, The Fringe, Next Stage, Lab Cab, Red and Ashkenaz.
As an educator: Julie has been an Artist-in-the-Schools with the Stratford Festival's Teaching Shakespeare Program since 2002, is on faculty at Ryerson University's Act II Studio, teaches "The Business of Acting" at George Brown Theatre School (where she graduated in 2001), has twice facilitated the Paprika Festival's "Creators' Unit", is a regular workshop facilitator with the Luminato Festival and has facilitated Self-Producing Workshops for the Toronto Fringe and Nightwood Theatre. Julie is part of the core producing team of Toronto's Wrecking Ball.
Music Team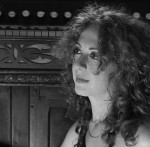 Cheryl Duvall
Music Director
Cheryl Duvall is a multi-faceted musician and pianist. She is active as a soloist, collaborative pianist, teacher and adjudicator and has toured and performed throughout Canada, Italy, England, Argentina, the Netherlands and the U.S. Ms. Duvall appears regularly as a collaborative pianist in the Kitchener-Waterloo Chamber Music Society concert series and is the accompanist for the internationally renowned Oakville Children's Choir. She is especially passionate about contemporary music, which has led her along with friend and violinist Ilana Waniuk, to co-found The Thin Edge New Music Collective, a Toronto based ensemble dedicated to fostering the creation and performance of 20th and 21st century music. She is also in high demand in Toronto as a collaborative pianist, working with all instrument types and vocalists.
Equally passionate about musical education, Ms. Duvall maintains a private piano studio in Toronto, presents workshops on aspects of piano pedagogy, runs a nursery school music program for children 10 months – 4 years old, and adjudicates competitive and non-competitive music festivals throughout Ontario. Cheryl continues to pursue artistic excellence by regularly attending professional development seminars, workshops and masterclasses. She has attended the Casalmaggiore Music Festival in Italy, the Palazzo Ricci masterclass series, the Toronto Summer Music Festival, the World Piano Pedagogy Conference and held an artistic residency at the Banff Centre for the Arts. She was awarded a SSHRC grant for her pedagogical research on how to incorporate aspects of the Alexander Technique into lessons with beginner piano students. Ms. Duvall is a practitioner of the Alexander Technique and yoga and incorporates these philosophies into both her teaching and performing.
Ms. Duvall completed an Honours Bachelor of Music, majoring in Piano Performance and Theory and a Diploma of Chamber Music from Wilfrid Laurier University as well as a Master's of Piano Performance and Pedagogy at the University of Toronto. Her main teachers and influences include Guy Few, Chris Foley, Midori Koga, Carmen Piazzinni, Henri-Paul Sicsic, Anya Alexeyev and Jamie Parker as well as the Penderecki String Quartet. She began her studies in Oshawa, Ontario under the tutelage of Jane Piersma and Anna Laird.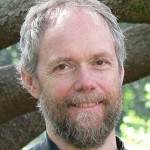 David Passmore
Conductor
David Passmore has been the Director of Music of Bloor Street United Church since 1989. During that time he has conducted the choir in a number of concerts with orchestra, the latest featuring Haydn's Lord Nelson Mass, and Hovhaness's 30th Ode of Solomon; in addition he has conducted several concerts of student compositions.
He has also been active as a composer; his works and arrangements have been performed by the Iseler Singers, the Vancouver Chamber Choir, Mississauga Choral Society, Mendelssohn Youth Choir, Amadeus Choir, Tapestry, Continuum, Trinity Chamber Ensemble, Toronto Woodwinds, Toronto Symphony, Pittsburgh New Music Ensemble, and others. Recent highlights have been winning the 2010 Musica Religioso Olomouc Festival Composition Competition, Czech Republic, and the 2012 performance of his song cycle My Mistress' Eyes (Seven 'Dark Lady' Sonnets) by Kryzstina Szabo and Christopher Mokrzewski in the inaugural concert of the Canadian Art Song Project in the Richard Bradshaw Amphitheatre of the Four Seasons Centre. The cycle will also be performed this coming August at the PARMA Music Festival in Portsmouth NH by Danielle Buonaiuto, arranged for the Lunar Ensemble (Gemma New, conductor).
Anthony Thompson
Clarinet
As a freelance clarinetist, Anthony Thompson performs with many Toronto-based ensembles, most frequently with the Toronto Symphony Orchestra. Anthony has a deep passion for contemporary music, with recent performances with Soundstreams, one of Canada's premiere contemporary music ensembles, at the National Concert Hall in Taipei and the Beijing Modern Music Festival. As a member of the Blythwood Winds wind quintet, Anthony is also an active chamber musician, appearing regularly at many of Toronto's musical and cultural venues. He has also appeared with the Smithsonian Chamber Players, the Arizona Opera Orchestra, the New Mexico Symphony Orchestra, and the Santa Fe New Music Ensemble. Anthony holds an Artist Diploma from the Royal Conservatory of Music in Toronto, a Master of Music from the University of New Mexico, and a Bachelor of Music from California State University, Northridge. Additionally, he is a doctoral candidate at Arizona State University. His teachers include Dr. Julia Heinen, Keith Lemmons, Dr. Robert Spring, and Joaquin Valdepeñas.
Branko Džinović
Accordion
Branko Džinović is an accordion artist that focuses on the contemporary repertoire for the accordion. He holds a Master's degree from the "Anton Bruckner Private University for Music" in Linz (Austria) and is currently pursuing a DMA degree at the University of Toronto, where he is the teaching assistant to Prof. Joseph Macerollo. He took part in numerous accordion competitions and has been grand-prize winners at the "Accordion World Cup" held in London (UK) in 2001, "Das Podium" competition held in Linz in 2004, and the "DMA Recital Competition" held at the University of Toronto in 2013. Branko Džinović has recorded for Radio Belgrade, Radio Austria 1, and the BBC. As a soloist and a chamber musician, he has toured in Canada, England, Australia, New Zealand, Germany, Austria, Italy, Netherlands, Norway, and the Czech Republic.
Ilana Waniuk
Violin
Ilana Waniuk is a versatile violinist and contemporary chamber music addict with interests ranging from classical music and improvisation to visual arts. She has held two artistic residencies at the Banff centre for the Arts, been a guest artist in residence at the SoundSCAPE festival of contemporary music in Italy, and participated in the Bang On A Can Summer Music Festival at Mass MoCA . Along with pianist Cheryl Duvall, Ilana is a founding member and co-artistic director of the Thin Edge New Music Collective a Toronto-based contemporary music ensemble now in its 3rd season. She has also performed with the Pendulum Ensemble in Toronto, Ensemble Dal Niente in Chicago and most recently as part of the Music Gallery's Emergents Series in Toronto. Ilana received a Performers Certificate from Northern Illinois University, a Master's Degree in performance at the University of Ottawa and a Bachelor's Degree in performance and a diploma in chamber music from Wilfrid Laurier University.
Dramaturge
Markus Howard
As a conductor, director, singer and choreographer, Markus Howard has worked extensively in the arts throughout Canada and abroad. For Mirvish Productions, Markus was the Voice and Dance Coordinator for The Lion King training program, working with the child actors performing and auditioning for the roles of Young Nala and Simba. In the summer of 2012, he was named Lead Artist Educator with the Canadian Opera Company where he has written four operas for youth, lead classes and workshops in stage performance, and directed and choreographed for different productions in the Education Department. Mr. Howard has adjudicated for Musical Theatre at the Provincial Finals of the Ontario Music Festivals Association, and will be adjudicating both Choirs and Musical Theatre at the Toronto, Peterborough, Pickering, and Ottawa Kiwanis Music Festivals.
Markus has served on the Faculty of the Royal Conservatory of Music teaching Advanced Stage Craft for the Opera Division, the Randolph Academy for the Performing Arts, and both Hart House and Massey College at the University of Toronto, lecturing music courses and leading ensembles to national and international acclaim. He has appeared as a chorister with the Stuttgart Kammerchor (Germany) the European Octet (Sweden) the World Chamber Choir (Belgium) and numerous Canadian professional choirs. Mr. Howard is currently the Artistic Director of the Guelph Youth Singers, La Jeunesse Choirs, and the Oriana Singers of Cobourg. He is the founding conductor of the professional chamber choir La Movida, and represented UNESCO as an ambassador of Arts and Goodwill from 1996-1999. Markus continues to share his skills with aspiring artists at home and abroad.
Cast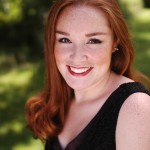 Maureen Batt
Soprano
Noted by Opera Canada as a "young, lovely and captivating soprano," and by the Halifax Herald as being "enthusiastically at home on stage" and having an "endlessly energetic and animated interpretation," Maureen Batt is an accomplished concert and opera artist.
She is equally at home in opera, oratorio, cabaret, musical theatre, art song, and contemporary music. An avid supporter and promoter of new Canadian music, Maureen has both commissioned and premiered many works by emerging and established composers. She performed in a number of the Toy Piano Composers' seasons, including the Opera Scenesters production; performed in Toronto Operetta Theatre's TAPTOO! premiere; participated in a new singer-composer collaborative workshop in Halifax called Opera from Scratch, where she and Monica Pearce worked with Janice Jackson, soprano, and composer mentor James Rolfe; performed in the 2013 Tapestry Songbook concert as part of the New Opera 101 program; and participated in the Contemporary Performance Studies program at the Vancouver International Song Institute, where she performed works by living Canadian composers, and worked with composers Jake Heggie and Jeffrey Ryan.
Maureen's opera credits include Belinda, Dido and Aeneas (Purcell), Silvia, L'isola disabitata (Haydn), Lauretta, Gianni Schicchi (Puccini), Rosa, Il campanello (Donizetti), Polly, The Threepenny Opera/Die Dreigroschenoper (Weill), Morgana, Alcina (Händel), Nina, Chérubin (Massenet), Susanna, Le nozze di Figaro (Mozart), Eusebia, Die Freunde von Salamanka (Schubert), Jenny, La Dame Blanche (Boieldieu), Papagena, Die Zauberflöte (Mozart), Zerlina, Don Giovanni (Mozart), Annina, La Traviata (Verdi), Despina, Così fan tutte (Mozart), Laetitia, The Old Maid and the Thief (Menotti), Serpina, The Maid Mistress (Pergolesi), Limonia, Ten Belles Without a Ring (Von Suppe), Miss Silverpeal, The Impresario (Mozart),
As an actor, she has appeared in Theatre St. Thomas University's productions of Measure for Measure, Oh, What a Lovely War, and Caucasian Chalk Circle. She filmed a TV pilot for a series called Oznaberg, which premiered in the 2011 Silverwave Film Festival, and has since aired on Rogers Television. Her selected concert and oratorio credits include Handel's Messiah and Esther, Mozart's Vesperae solennes de Confessore and Exsultate Jubilate, Bach's BWV 187 Es wartet alles auf dich, BWV 4 Christ lag in Todes Banden, and BWV 245 St. John Passion.
Maureen's formal training includes a Master of Music from the University of Toronto, a Bachelor of Music from Dalhousie University, and a Bachelor of Arts from St. Thomas University. She is an alumna of the St. Andrews Opera by the Sea workshop, the Halifax Summer Opera Workshop, the Casalmaggiore International Music Festival, and the Daniel Ferro Vocal Program in Italy. This summer she returns to Europe to study at the Centre for Opera Studies in Italy (CO-SI).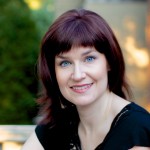 Erin Bardua
Soprano
Soprano Erin Bardua is a frequent concert soloist, who has sung Handel's perennial favourite, Messiah, with numerous choirs and orchestras, including the Pax Christi Chorale, the Toronto Sinfonietta, the Oshawa-Durham Orchestra and Chorus, the Arcady Baroque Ensemble, the Georgian Bay Concert Choir and the St. James Cathedral Choir. Other oratorio engagements include Beethoven's Mass in C Major, Vaughan Williams' Hodie, Haydn's Creation, Handel's Esther and Judas Maccabaeus, Mozart's Requiem and Vesperae solennes de confessore, Rutter's Requiem, M.A. Charpentier's Te Deum, Bach's Magnificat, St. John Passion and St. Matthew Passion, Saint-Säens' Christmas Oratorio, Vivaldi's Gloria, Nulla in mundo pax sincera, and In furore justissimae irae, and Zelenka's Missa Omnium Sanctorum.
Ms. Bardua made her professional operatic debut as Anna in Pacific Opera Victoria's production of Verdi's Nabucco. Since then, her operatic roles have included Nannetta in Verdi's Falstaff, Antonia and Giulietta in Offenbach's Les contes d'Hoffmann, Pamina in Mozart's Die Zauberflöte and Donna Anna in Don Giovanni. Recently, Erin and a colleague formed Essential Opera, a collective performing operatic works in concert. Erin's roles with Essential Opera so far have included the Countess in Le nozze di Figaro, L'Ensoleillad in Massenet's Chérubin, the title role in Alcina, Lucy in Threepenny Opera, Serafina in Donizetti's Il Campanello, and Constanza in Haydn's L'isola disabitata.
A supporter of contemporary music, Erin is creating leading roles in three new operas by young composers commissioned by Essential Opera, and has participated in the development of several other new opera projects. As an accomplished theatre artist, Erin has performed roles in numerous musicals and operettas, including Josephine in HMS Pinafore, Giannetta in The Gondoliers, Mrs. Segstrom in A Little Night Music, and Julie in Carousel.
Previous adventures include the co-creation of a "clown opera" under the tutelage of master clown Sue Morrison, and various film and voiceover projects including the role of the Fiancée in creator John Greyson's serialized transit mystery Murder In Passing.
Ms. Bardua is represented by Knowles Artists.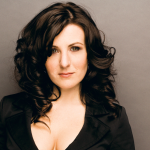 Julia Morgan
Mezzo
Canadian mezzo-soprano Julia Morgan has a burgeoning career in opera and recital. She is becoming known to her audiences for being "keenly sensitive to words and phrases with a natural penchant for expressive felicities",(Gramophone) as well as having "the concentration and poetic insight to illuminate transcendent tributes to love, nature, and the ebbing of life."(Gramophone)
Last fall Ms.Morgan had the honour to perform the role of Florrie, Rattenbury's first wife, in the World Premiere of Tobin Stokes' opera Rattenbury in the glamorous Crystal Ballroom of The Empress Hotel. The other lead roles were performed by prestigious musicians Richard Margison, Kathleen Brett, and Ken Lavigne. Her previous roles include Dido ('Dido and Aeneas'), Hansel ('Hansel and Gretel'), Carmen ('Carmen'), Cherubino ('Le Nozze di Figaro'), Frau Reich ('Die Lustigen Weiber von Windsor'), Prince Orlofsky ('Die Fledermaus'), and Bianca ('The Rape of Lucretia').
Ms. Morgan just completed a Contemporary Song and French Mélodie study with prestigious faculty at the Vancouver International Song Institute. Julia had the honour of performing Canadian composer Dan Marshall's new work Last Leaf, as well as work first hand with Jocelyn Morlock. Julia was thrilled to be a part of the world premiere and political statement opera When the Sun Comes Out by Leslie Uyeda that was commissioned for the Queer Arts estival.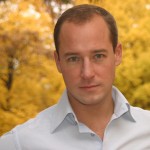 Keith O'Brien
Baritone
Originally from Thunder Bay, Ontario, Keith took his Bachelor of Music from McGill (Montreal), and a Master of Architecture from University of Toronto. Keith has enjoyed many successes as a varsity oarsman, competing internationally for both schools. Opera credits include The Four Villains (Les Contes d'Hoffmann), Horace Tabor (Ballad of Baby Doe), Malatesta (Don Pasquale), Escamillo (Carmen), Marcello & Schaunard (La Bohème) and Nick Shadow (The Rake's Progress) with Opera by Request, David (A Hand of Bridge) with Soup Can Theatre, Rigoletto (Rigoletto) with Vancouver Concert Opera Society, Silvio (Pagliacci) with Toronto Opera Collaborative, Marchese d'Obigny (La Traviata) with Opera Tampa, Enrico (Lucia di Lammermoor) with Coro Giuseppe Verdi, , Nilakantha & Frederik (Lakmé) with Summer Opera Lyric Theatre, Mark (Frobisher) at The Banff Centre, Njegus (The Merry Widow) with Toronto Operetta Theatre, and Seargent Fiorello (Il Barbiere di Siviglia) with Edmonton Opera. Keith has enjoyed being on the Canadian Opera Company stage as part of the Chorus (War and Peace, Aida, Cosi Fan Tutte, Un Ballo in Masquera). Music Theatre credits include The Proprietor (Assassins), Peter (Company), Count Carl-Magnus Malcolm (A Little Night Music), and Cinderella's Prince/Wolf (Into the Woods). Keith studies in Toronto with Gary Relyea, in New York with Mark Schnaible, and as a former New Artist with Opera Tampa, often travels to study with the famous Verdi baritone, Sherrill Milnes. Look for Keith in the role of Sharpless (Madamma Butterfly) this summer with Summer Opera Lyric Theatre.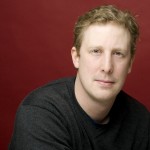 Jesse Clark
Baritone
Baritone, Jesse Clark, is a graduate of Queen's University with an Honours degree in English Literature, and of the University of Toronto's Opera Division. Recent engagements include Henry Cuffe in Britten's Gloriana (his professional UK debut) for the Aldeburgh Festival, conducted by the late Richard Hickox, which was recorded by the BBC, Schaunard in Puccini's La Bohème with Opera Saskatoon, the role of Le Berger in Debussy's Pelléas et Mélisande for the Canadian Opera Company, while also understudying the role of Pelléas. Jesse made his Toronto Symphony Orchestra debut singing in a "Last Night at the Proms" program, and returned to the COC to sing the role of the Aide-de-Camp to Prince Eugene in Prokofiev's War and Peace, while also performing the role of Figaro in a touring version of Il Barbiere di Siviglia. This season Jesse has appeared as Don Giovanni in a concert version of Mozart's opera with Opera by Request, Lord Mountjoy in Britten's Gloriana for Opera in Concert, and looks forward to singing a program of Rogers and Hammerstein with the Brantford Symphony and Vaughan-Williams' Dona Nobis Pacem with the Kingston Chamber Choir.